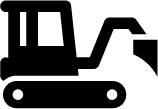 Need an excavator at your site urgently by 8.00am tomorrow morning? Haven't used Little Diggers before?
Not a problem. You can book from home at 8.00pm tonight using your mobile phone. You don't have to talk to anyone: its 100% on-line 24/7. The machine will be there at your site at 8.00am tomorrow morning.
Little Digger's 24/7 on-line booking system allows a first time user to prove their identity via Australia Post's Digital ID, check availability, book, pay and arrange delivery in just a few minutes. Nothing could be simpler. Unless you have used Little Diggers before, in which case there is no further identity checks: so it's even simpler once an account and password is set up.
Just go to the Excavators or Skid Steers pages at the top right hand side, click on the machine you want and follow the prompts. Simple, quick and convenient.
Need a hand booking a machine?
We recommend you watch this one minute video before booking a machine for the first time.
Let Cam walk you through the on-line ordering process.